As time goes by, the taboo that once hung around the idea of dating apps has almost completely dissipated. Not only that, the complete opposite has happened. Now if a couple doesn't meet on a dating app, people are surprised to hear about it. It seems like almost everyone meets their significant other through a dating app, and more and more newlyweds can attribute their happily ever afters to that one fateful swipe to the right.

However, for those who haven't matched with the one yet, sometimes the hardest part is actually getting out and taking the plunge of the dreaded first date. There are many reasons to feel anxious about a first date, ranging from worrying about whether this person will like you or if you're wasting your time altogether. Not only that, dating takes a huge amount of time, money, and effort, and if things don't go well, it can feel like it's been a huge waste of all of those resources.
Dating app Hinge has been around for quite some time, but recently has changed its format and motto altogether. Hinge pledges to help people find a relationship rather than just a hookup. The app encourages its users to fill out meaningful bio sections in order to promote a real connection. The logic is the more effort you put in, the more you'll get out of it.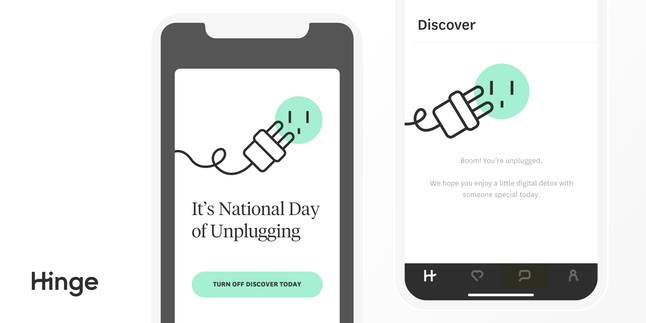 As a part of the National Day of Unplugging, Hinge has teamed up with Freehand Hotel Group and will offer its users a free cocktail at the group's swanky Broken Shaker bar. The catch? Users must turn off the setting that allows them find new dates to encourage them go out with people they have already matched with. Seems simple enough, right?
A prompt will be sent out on the app that encourages users to switch off the "discover" setting of their profile at 12:01AM on March 1st. In order to be eligible for the free cocktail, the discover section must be turned off by 5:30PM on March 1st.